Industrial Wireless Solutions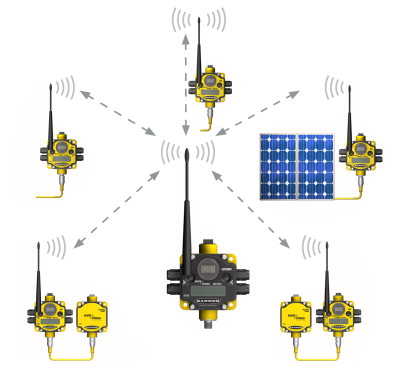 Industrial Wireless solutions have progressed greatly in the past 10-15 years. Sensors are smaller, faster, and have lower power requirements while the radios monitoring them are now faster with higher transmit power, and increased reliability.
It is not uncommon now to implement wireless radios that can run for 3-5 years on the same battery pack. This makes installation a breeze, while still providing the reliability that hard wired systems have always provided.
More and more sensors are being added all the time, whether it is monitoring for temperature, pressure, vibration, distance measurement, and even tank level, we have a wireless sensor than can most likely meet the need.
We have implemented wireless networks on tank farms, assembly lines, commercial water systems, irrigation wells, and power plants, with new applications being requested frequently.
Once the data is collected we offer a myriad of data aggregation options, including: Modbus 485, Modbus TCP, Ethernet IP, Cellular, Cellular-to-Cloud, and even Satellite for ultra-remote installations.